04 octobre 2006
Sydney Opera House - AUSTRALIA from the 14th of august until Sep 1 2007

"Funny, touching and sensitive ... allows audiences of all ages to live a moment of magic" Le Figaro
The legacy of Chaplin and Keaton lives on, as Julien Cottereau, the star clown of Cirque du Soleil's Saltimbanco, brings his acclaimed solo show to Sydney.

But this is no silent movie on stage. Though wordless, Cottereau employs an amazing repertoire of vocal effects creating vivid soundscapes that bring his make-believe world to life.

An extraordinary actor, clown and mime, Cottereau makes objects and people spring out of nothing, creating moment after moment of magic. It's a whimsical imagined journey populated by wild beasts, irritated dogs, flies, princesses and evil rivals

For the child inside or the child beside you, this is theatrical comfort food of nourishing simplicity. A hit of the 2006 Avignon Festival and direct from a sell out seven-month run in Paris, Imagine Toi reminds us that the simple things in life are often the best.
Added: August 20, 2007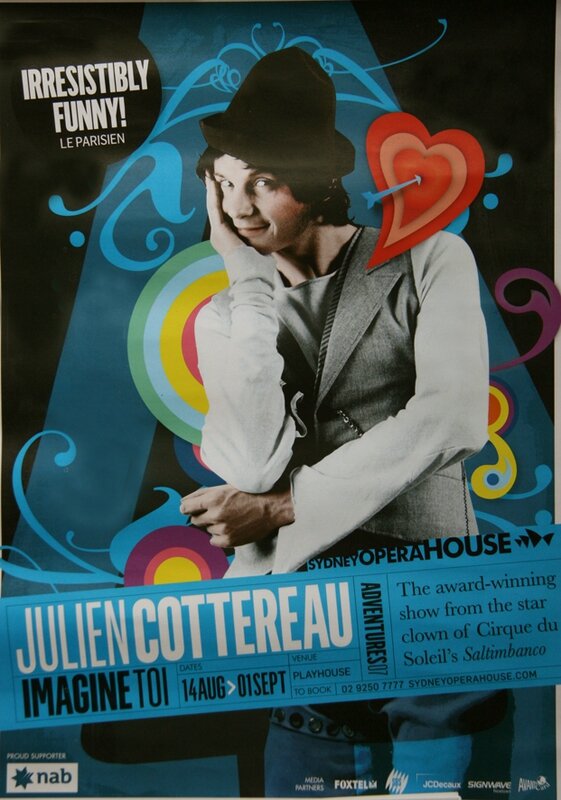 Sydney Review Theatre Story THE BRAG - August 2007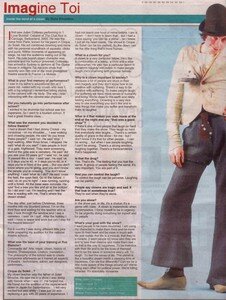 Imagine toi. Inside the mind of a clown by Ruby Boukabou


I first saw Julien Cottereau performing in "I love Burlesk Cabaret" at the Chat Noir in Carouge, Switzerland, 2005. He was the mime from Paris, known for his years in Cirque du Soleil. His act combined Clowning and mime with his personnal soundtrack of squeaks, clicks, and purrs. Within moments of appearing on stage, he had the audience eating out of his hand. His cute boyish clown character was adorable and his humour universal.Cottereau has arrived in Sydney to perform at the Opera House, in Imagine toi, his solo show that recently won him one of the most prestigious theatre awards in France - a Molière.
What is your first memory of performance ?
- I was in my fahter's educational film at 2 years old, naked with my cousin who was one, with a big lollypop ! I remember telling stories to the camera with my body. The way I was interacting was physical.
Did you naturally go into performance after school ?
- I wanted to be drummer but school was to expensive. So I went to a tourism school. It had a great theatre class...


What was the moment you decided to follow theatre ?
- I had a dream that I had Jiminy Cricket – my conscious – on my shoulder...I was walking and crossing people. He said "Do you know these people ? I said "No". He said "Stop". I kept walking. After three times I stopped. He said "What do you see ? I saw people in front a gate, frightened. They were screaming. Behind the gate was a cemetery. He said "Did you see your 20 years go ? I said "No". He said "It passed like a day ?" i said "yes" He said "So in 2 days you're 40, in 3 days you're 60, in 4 days you're in front of the gate...cause you don't know where you're going, and you don't know the people you're crossing. You don't know anything. I said "What do I do ?" He said "Cross the field, the open field, go to the nature" I said "Ok ok you're right" I was running running until a forest. All the trees were concrete. He said "Find a tree you like and sit at the bottom. So I did and I sat. I'm breathing and I feel that the tree is breathing with me. Then all the concrete began to crack. That's where the dream ended. The day after, just before Christmas, three months passed in my tourism school, I'm on the third floor, and waiting for my teacher who is late. I look through the window and I see a cemetery. I said "Ok I quit" After the holiday I asked the director"I have to leave and work but can I stay for the theatre lessons ?". For 6 months I was doing different little jobs while preparing my audition for national theatre schools.
What was the base of your training at Rue Blanche ?
-Commedia del Arte, mask, clown, history of theatre, Sheakspeare,Chekov, translation...the philsophy of the school was to create companies afterwards as it trained all aspects of theatre – technicians, admin, set designers, performers....
Cirque du Soleil ?...
-My clown teacher was the father of Juliet Binoche. He saw me in a show I was doing with friends when I was 21 in the school. He helped me. He found me the audition of the replacement clown in Japon for Saltimbanco....I felt very excited but also shitty. I was just 22 and replacing a guy with 20 years of experience. I had no learnt one hour of mime before. I am a clown – if it's not perfect mime it should be funny...And I had a voice : "you can be mime"...so I knew. I put all my heart inside. The shows in Cirque du soleil can be too perfect. So the clown can be the little thing that's more human. It saved me.
What is a clown for you ?
-A clown is very particular fellow. He's like a combination of a tramp, a child and a wise philosopher. He also has a particular talent to transform tragedy with twists to make people laugh. He's charming with physical fantasy.
Why is a clown important to society ?
-Because a lot of people are stuck in their own tragedy, and they don't know how to be creative with their suffering. There's a way to be creative with suffering. To make people laugh. For suffering we have more sense of humanity and living. We're close to the earth and really feeling everything. Clowning is a very nice way to use everything you don't like and to take things that make you suffer and transform them to laugher.
What is it that makes you walk home at the end and said "that was a good show " ?
-If there's one or two people that laugh so hard that they make the show. They laugh so hard that everybody else laughs....There's a certain quality of grace in the show – for me – but I don't know if it's that for other people...I can be wrong...But there's a strong emotion i know,it's laughing together. There's a trancendence that's happened.
Is that the drug ?
- Yes. That's life. The feeling that you feel the same. A group who is feeling the same, it's very important.. You are part of it.
And you can control the laugh ?
- To control the laugh can be perverse. Laughing can be painful.
People say clowns are tragic and sad. It that true or sometimes true ?
-They 're sad when there're alone.
Are you alone ?
- In the show yes. In life it's a choice; it's a game with rules. A clown is melancholic when contemplative. I forced myself to be in urgency. To be urgently doing something for myself and for people.
What's your goal with the show ?
- I want people to be more nourished. I am using my character to make them think and be more open in their heart, and be more in touch with life, and realise that's life is a miracle, that they're a miracle. I want people to know who they are, and to take their dreams and make them real- as that is the way to happiness. To be inventive with their life and to be the boss of themself. Not to be the slave of someone else's will. To laugh. To feel the sense of life. This planet is like a beautifull dream inside a sleeping time of blackness. Can we live differently ? Can we be a little more aware of the things around us ? We 're killing each other for political power. We 're killing miracles. It's absolutely nonsense.
The Sydney Morning Herald - 14th of August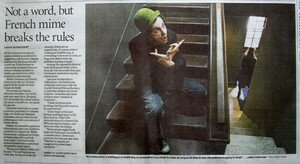 Not a word but French mime breaks the rules by Louise Schwartzkoff
Of all the performing art, mime is almost to guaranteed to trigger eye rolling and cringing among even the most tolerant audiences. It has become so universally maligned there are several websites devoted to tirades against the so-called monochromatic morons.
Julien Cottereau is a french mime artist who for around 8 years played Eddy the Clown with Cirque du Soleil. Cottereau is a leading advocate for mime, but in his new one man-show, Imagine toi, he breaks the oldest rule in the mime handbook : he opens his mooth. Cottereau uses mime to create a universe populated by irritated dogs, evil rivals and beautifull princesses, but accompanies his performance with a cacophony of verbal effects.Despite his extensive repertoire, of sounds and gestures, Cottereau admits his is a simple act.While his acrobatic colleagues in Cirque du Soleil risked life and limb every night, Cottereau'most serious incident was a nasty bout of repetitive strain injury. "it's not a revolution, what I do"he said , "I am not breaking any rules. But, for me, all those old miming cliches are an opportunity. If a mime artist is walking an invisible dog, or pretending to be stuck in a box, as long as he does it well, the audience is going to laugh.".
Among the impossible feats of Cirque du Soleil, critics from all over the world often said Cottereau's tomfoolery was the standout act. Last year he travelled to Afghanistan, the Palestinian territories, with the charity Clowns without Borders, to entertain refugee and street children. Cottereau said these children were "masters of clowning". "These children have nothing, but they still want to be entertained. They want to fill their bellies, and they want to fill their hearts. That's the contradiction of a clown's life. With one eye he laughs, and with the other he weeps. Some people might think that's old-fashioned, but really it's a timeless ideal. Clowns are innocent, but they are also wise. They live in tragedy, but imagination makes them optimistic."
The Sunday Telegraph – August 2007
This clown is clever beyond words by Jo Litson
Discovered by Cirque du Soleil, after a national theatre school and also with performing on the streets of Paris, Julien Cottereau agreed to run away with the circus and travelled the world for around 10 years playing Eddy the clown in Saltimbanco. He returns to Sydney with his solo mime show Imagine toi, a totally charming performance that makes the heart and soul sing.
In ill-fitting clothes, pointy shoes ans battered felt hat, Cottereau is an urchin-like man-child, an innocent abroad. On an empty stage, he takes us into a world of pure imagination were endless fun and games can be had with invisible balls, chewing gum and dogs of all shapes and sizes.Off-stage, wild beasts roar and ogres snore, but on stage it's (mostly) safe to play. One minute he's in a park with a dog, then flouncing down a catwalk, rescuing a fairytale princess or weeping over a wounded animal. With his eloquent physicality, expressive face, and mischievous grin, his inspired clowning has us laughing and crying with him. Cottereau's consummate skill as a mime artist is given a contemporary twist by the vast repertoire of vocal sound effects that he uses to accompany his performance.It's incredibly clever and adds greatly to the humour. Audience participation is a key element of the show. Several spectators are coaxed onto stage and prompted to take part in the fun by gestures and whistles. At the performance we saw, participants ranged from the painfully shy to a born show-off, but were never treated with anything less than kindness. Imagine Toi is a subtle, poetic, extremely funny show shot through with tender whimsy though Cottereau isn't above a fart joke. Its springs from a tradition that the French, with their history of commedia dell'arte, mime and physical performance (think Marcel Marceau, Jacques Lecoq) seem to understand innately and Cottereau is no exception. My sports-mad, PS2-playing-12-year-old was enraptured, as were other children around us. A delightful family show.
The Sun Herald - August 2007
Silent star by JB
If you think you hate mime and mime artists, you're not alone. Rowan Atkinson lampooned them mercilessly with his" my body is my tool" routine. Woody Allen was driven to deck a particularly annoying street mime in Scenes From A Mall. There's even an internet site (ihatemimes.com) devoted to dissing the art of silent clowning, where you can buy the T-shirt. Before you do go and see Julien Cottereau. This one-man show by the Cirque du Soleil veteran, is an invitation to leave your cynicism at the door. Even if you don't, it defies you to maintain it. Imagine Toi is a series of short scenes, beginning with Cottereau as a downtrodden houseboy sweeping the floor while his master, a giant ogre, sleeps. A piece of chewing gum is all it takes to propel him into a series of inventive little escapades.
Cottereau is a technically gifted mime, but more often than not the humour comes from the emotional energy he invest in an action, rather than the strict precision with which he executes it. The 75 minutes is wordless but it is far from silent. There's a lot of audience participation and if you're invited on stage you'll be worked reasonably hard. It's all done with enormous charm and great skill.
G

et out –sights – sounds – happenings

- August 2007

Send in le clown. Be enthralled by french mime Julien Cottereau.
Julien takes entertainment back to basics. Forget elaborate sets – 12 piece orchestras or spectacular litgh shows.The only thing Julien Cottereau needs is an audience with an imagination. Working on an empty stage, Julien Cottereau mimes, acts and clowns, around to create an all-encompassing illusion for the audience. Discovered in Paris, Cottereau was cast as Eddy the clown, in Cirque du Soleil's Saltimbanco show, and toured with the company for around 10 years. Fans of Cirque du Soleil, with find plenty to love about Cottereau's solo performance, a treat to tide you over until the Canadian troupe returns once more to Oz. Utilising vocal effects but no words, Cottereau'show, Imagine Toi, has a captivating air of whimsy and endless possibility as both actor and audience collaborate in a game of make-believe. Imagine Toi comes to Sydney direct from a sell-out seven-month run in Paris.